[Order Information]
DLM4038 , 350 MHz Mixed Signal Oscilloscope 8-channel 8-bit
DLM4058 , 500 MHz Mixed Signal Oscilloscope 8-channel 8 bit
12.1 Inch LCD Enables Eight Waveforms to be Easily Observed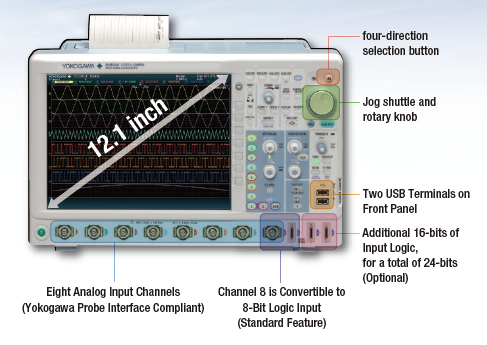 Typical Demanding Applications for the Eight-Channel DLM4000
Motor Control & Inverter Circuit Development
Key to efficient and reliable high-performance electric motors is the modern inverter design, or 'Intelligent Power Module'. Multi-channel, high-speed waveform measurement is an absolute necessity. Four channels are simply NOT enough. Boasting eight true analog inputs, the DLM4000 empowers today's engineer with a convenient and comprehensive measurement system.
Electronic Control Unit & Mechatronic Test




Numerous I/O analog, digital, and serial-bus waveforms surrounding the Electronic Control Unit (ECU) must be measured. The DLM4000 offers ample channel-count and architecture to monitor eight analog channels and up to 24-bits of logic input while simultaneously performing protocol analysis such as UART, I²C, SPI, CAN, LIN and FlexRay. The DLM4000 can speed up the R&D process.
Power Supply & Power Coverter Test
During the evaluation of power supply design, it is necessary to measure noise, ripple, voltage margin and current, as well as timing margins and the jitter of the startup-shutdown sequences. As the number of waveforms in modern power supply designs is increasing, especially for intelligent digitally-controlled power supplies, battery management systems, and wireless power supply systems- a four channel oscilloscope is not enough.

T
roubleshooting, Total System Test

For laboratory and field troubleshooting, the ability to measure as many suspicious signals as possible enables quick solutions to be found. The 8 channels of the DLM4000 provide the capability to measure more signals at one time, both now and to meet future needs.